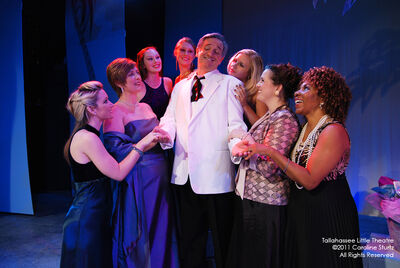 Ben Taylor
Edit
Ben was seen on TLT's stage wooing beautiful women on the French Riviera as Lawrence in Dirty Rotten Scoundrels, frantically covering up a shooting in Rumors, solving a devilish mystery along with Hercule Poirot in Agatha Christie's Black Coffee and mourning the loss of his true love in The Secret Garden. He was also awarded the Inge Schwarz Award for Outstanding Volunteer in the 2011-2012 season . Ben's performance career has spanned 35 years and he is a graduate of FSU's School of Theatre. By day, he is the accounts receivables manager for Auto Data Direct, Inc., but now resides and performs in the St. Petersburg/Pinellas County area, where he was awarded the Best Actor in a Musical Award in 2013 for his role as Max Bialystock in The Producers with the Eight O'Clock Theatre in Largo.
Awards and Nominations
Edit
Inge Schwarz Award for Outstanding Volunteer - 2011-2012 Season
Ad blocker interference detected!
Wikia is a free-to-use site that makes money from advertising. We have a modified experience for viewers using ad blockers

Wikia is not accessible if you've made further modifications. Remove the custom ad blocker rule(s) and the page will load as expected.